Kenosha, WI Dental Staff
Todd A. Armstrong
Dentist in Kenosha, WI
Todd A. Armstrong, D.D.S., S.C.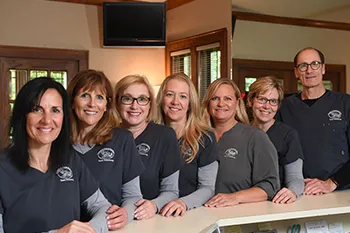 Dr. Armstrong is a general dentist practicing in Kenosha, Wisconsin. Through his practice, he is able to express his passion to help patients attain and maintain complete oral health and function with a special emphasis on cosmetic dentistry.
Dr. Armstrong grew up in Kenosha and attended the University of Wisconsin - Parkside where he earned an undergraduate degree in chemistry and microbiology. He went on to study dentistry at the Marquette University School of Dentistry . While at Marquette, Dr. Armstrong was recognized for his talent and his commitment to dentistry by being accepted into the National Dental Honor Society.
After his graduation from dental school in 1985, Dr. Armstrong was accepted into a General Practice Residency program with the United States Air Force. This residency experience gave Dr. Armstrong the opportunity to train in all specialties of dentistry.
Dr. Armstrong and his wife, Kristin returned to Kenosha in 1988 and joined in the practice of Dr. Dan Riley. Dr. Armstrong and his warm, caring staff have since been providing state of the art dentistry to his continually growing family of patients.
When Dr. Armstrong is not practicing dentistry, he enjoys woodworking, hunting, fishing, and travel. Along with his brother, Dr. Armstrong keeps several beehives (even though he is allergic to bees!) and packages their honey. Do you know what an apiary is? Click here to find out!
Dr. Armstrong welcomes new patients and looks forward to meeting YOU soon.